Flights Lyon - Cancún
Follow in the footsteps of the Mayan civilization
480€ D/A
From Jan 22, 2022
to Feb 4, 2022
Cancún is world-famous for its beautiful white sandy beaches
Follow in the footsteps of the Mayan civilization and discover a region with a rich cultural and natural heritage.
If Cancún is world-famous for its magnificent white sand beaches, its limpid waters offering splendid shades of blue and its range of nautical activities, the seaside resort has plenty of surprises in store for you.
Travel conditions
In partnership with Generation Voyage, Lyon Airport provides you with the latest news on travel conditions abroad. Do not hesitate to subscribe to our alerts in order to follow the updates. We also invite you to complete your research on the government website.
5 reasons to go to Cancún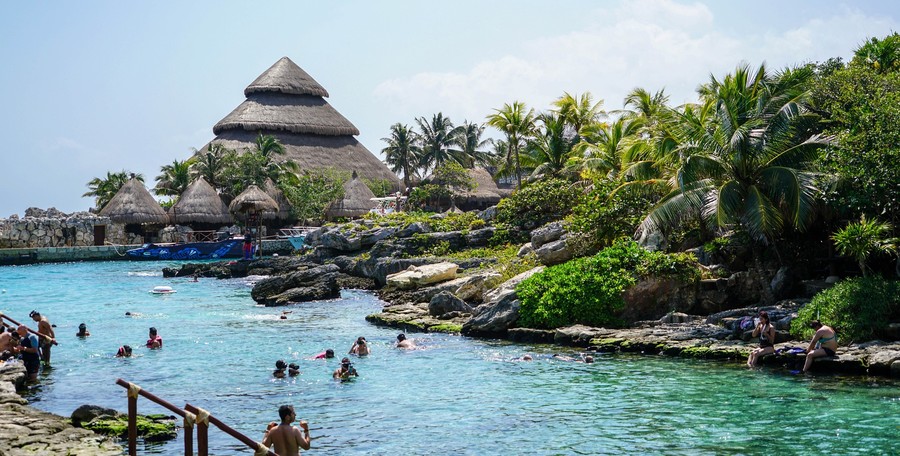 Swimming in the Laguna del Amor
Come and discover all the Nichupte lagoons, set right in the heart of Cancún. Admire the magnificent mangroves, spread out over 3,000 hectares and home to the Caribbean Sea's crystal-clear waters. Visitors can go kayaking, boating or jet skiing across the lagoon. Whatever your preference, you will no doubt also love swimming in its blue waters. Legend has it that taking a dip in the lagoon will kindle eternal love with the person your heart desires.
Enjoying the sea in Cancún
The sea in Cancún is the ideal playing field for water sport lovers. Take on the waves on a jet ski, go water-skiing on the Caribbean, try being propelled several feet above the water on a jet pack, explore the sea's depths and admire the many fish and plant species living there.
Discover the ruins of a large Maya city
The Prehistoric town of Chichen-Itzà is considered by Mexicans as the "Versailles of Yucatán". It is definitely a must-see! Classified as a UNESCO World Heritage site, this marvellous vestige of the great Maya city is also one of the world's seven wonders. Travel back in time to this age-old site, which combines extraordinary construction techniques used by both the Maya and Toltec cultures.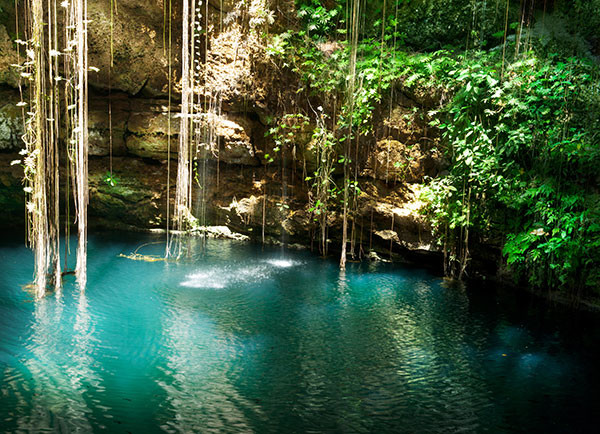 Gaze out in wonder at the Gran Cenote de Tulum
Do not miss out on the Gran Cenote, located on the road to Coba just a couple of miles from Tulum. This spectacular round chasm is a geological formation holding in its core a beautiful natural pool with clear and very deep waters. Remember to pack your snorkelling equipment, so you can observe the natural underwater caves that have formed there. The site is also appreciated for bird-watching.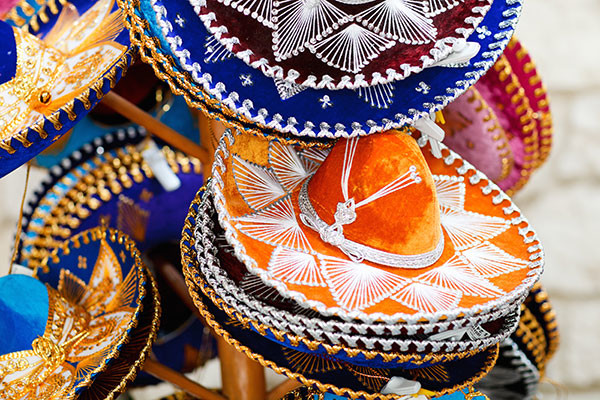 Strolling around Playa Del Carmen
The fifth avenue in Playa Del Carmen offers a wide selection of restaurants, bars, cafés and shops. The little stores open all night long make for a typically Mexican festive atmosphere. Wander down the little alleyways to get away from the hustle and bustle, and discover some beautiful local crafts. Playa del Carmen also has a cultural centre, where you can admire painting and sculpture exhibitions.
Useful information about Cancún
Find inspiration, find THE destination!
Go further
Find content that might interest you