Flights Lyon - Madrid
Madrid, an incredibly friendly and sparkling city!
74€ D/A
From Mar 31, 2022
to Apr 5, 2022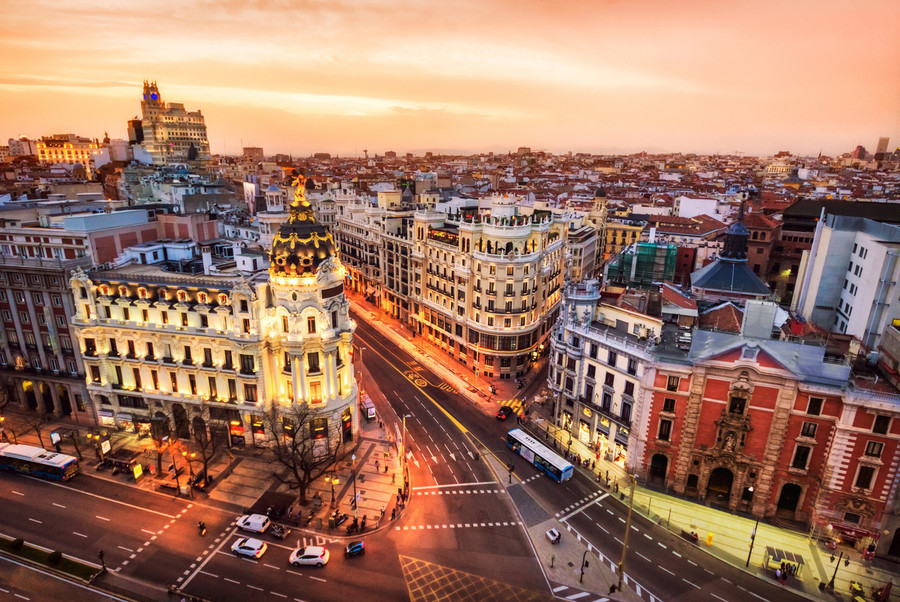 Madrid, an incredibly friendly and sparkling city!
Madrid, very easy to reach from Lyon, is an essential destination for any type of travel or stay.
Longing to admire the works of Museo del Prado, wander around Puerta del Sol or treat yourself to a tapas banquet? Need to attend a business meeting in the Spanish capital? Easily accessible from Lyon, Madrid is an unmissable destination for any type of trip or stay.
Travel conditions
In partnership with Generation Voyage, Lyon Airport provides you with the latest news on travel conditions abroad. Do not hesitate to subscribe to our alerts in order to follow the updates. We also invite you to complete your research on the government website.
5 reasons to go to Madrid
For its Exceptional Heritage
The unmistakable museum of Prado, the Spanish Louvre, is the emblem of a fabulous patrimonial proliferation, which earns the Spanish capital a spot in the list of preferred major cultural cities to visit. You can check it out from the Puerta del Sol, between the Thyssen Bornemisza Museum, Plaza Mayor or even the Royal Palace.
To Taste the Noches Españolas
Fana de tapas? The Madrid bars, which for the most part offer to snack on the famous Spanish specialty aperitifs, shine through their diversity. A good way to immerse yourself in the Madrid nightlife? The Madklyn: a bar in the bustling district of Malasaña, cradle of the Movida Española cultural movement.
To Quiver in a "Fútbol" Temple
The fervour that takes over the outskirts of Santiago Bernabéu on match night gives a nice glimpse of the Spaniards' passion for European Football. Whether you're a fan of the game or not, attending a match of Real Madrid, one of the best clubs in the world, is a must-see experience…
To Visit ... a Castle in Spain
Madrid is 600 meters above sea level and is one of the highest capitals in Europe. Perched in the mountains in the heart of the natural park of La Pedriza, the small village of Manzanares el Real is a unique site, the centrepiece of which is its monumental castle. Visiting it from Madrid is easy, thanks to the many shuttle buses that can take you there and bring you back.
To Stroll Through its Parks
The Spanish capital is famous for its parks. The most beautiful one is the Parque del Buen Retiro, Madrid's favourite place for escaping some of the hubbub of the city ... This green theatre built in the 17th century famously houses the Palacio de Cristal: a glass and metal building dedicated to exhibitions.
Useful information about Madrid
Find inspiration, find THE destination!
Go further
Find content that might interest you